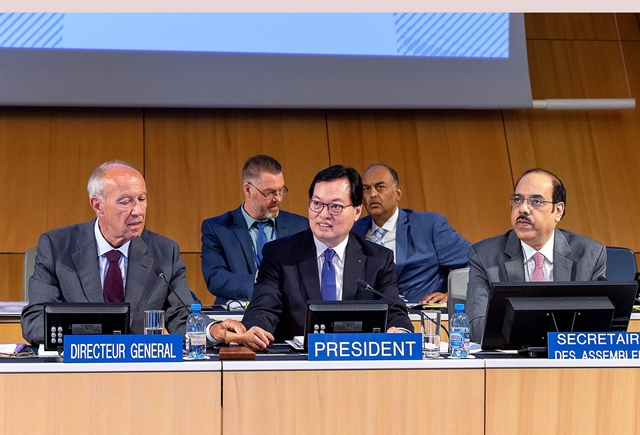 Ambassador Dương Chí Dũng, head of Việt Nam's Permanent Mission to the United Nations (UN) and other international organisations in Geneva talks to Vietnam News Agency about the active role of Việt Nam as the World Intellectual Property Organisation (WIPO) General Assembly's Chair for 2018-19 on the threshold of its 59th session from September 30 to October 9.
The fourth industrial revolution, with strong development of science and technology, has changed many aspects of global social life. As Chairman of the WIPO, could you tell us about the impacts of this development on WIPO and the intellectual property systems of member countries, including Việt Nam?
The fourth industrial revolution (Industry 4.0) with breakthrough scientific and technological achievements has exerted profound impacts on production methods, businesses and consumption, as well as the global politics and security and activities of each family, each country and the whole world.
The foundation of the Industry 4.0 is digital technology, with features such as Artificial Intelligent (AI), internet of things (IoT) and Big Data. Accordingly, knowledge, scientific and technological accomplishments, and innovative ideas have become the main driving force for economic growth of all WIPO member countries.
New production methods with intelligent equipment, production lines and management systems require the WIPO to reform itself. With a mission to promote the protection of intellectual property and encourage innovative activities and reform for socio-economic development while ensuring the interests of the community, WIPO has opportunities to renew towards the application of digital technology to build an intelligent management system.
However, the fourth industrial revolution also poses new challenges for WIPO in database management and operation when a huge, diversified and multi-dimensioned amount of information is rapidly circulated. Meanwhile, it is hard for WIPO to update and adjust related regulations in a timely manner. Besides, there is a big difference in viewpoints and intellectual property protection policies among countries due to development gaps between developed, developing and under-developed ones.
In Việt Nam, the intellectual property protection system has gained important achievements with a legal system in line with international practices. This is a foundation for Việt Nam to tap the huge opportunities from Industry 4.0 and scientific and technological advances.
Industry 4.0 will create development opportunities for all nations, especially developing ones, if they know how to apply new science-technology achievements.
However, this revolution could also make developing and underdeveloped countries lag behind further if they cannot optimise opportunities.
As the competition between nations in the world has become fiercer, they have to revise and adjust their development strategies. The Politburo's resolution on joining Industry 4.0 dated September 29, 2019, and the earlier introduction of the National Strategy on Intellectual Property through 2030 dated August 22, 2019 create an important step to promote innovation, creativity, and a strong intellectual property protection system.
It is the first time that Việt Nam has chaired the WIPO General Assembly. How has Việt Nam and the Vietnamese permanent mission in Geneva carried out activities at multilateral forums, including WIPO? What is the coordinating role and contribution of Việt Nam in WIPO operations?
Activities of the Vietnamese mission proved the proactive and practical participation of Việt Nam in multilateral forums in the new period of the country's international integration. Apart from its activities at the UN Human Rights Council, the delegation has proactively participated in professional forums such as WIPO, the World Health Organisation, the Inter-Parliamentary Union, the International Labour Organisation, the International Organisation of Migration and the World Economic Forum.
That Việt Nam is taking the presidency of the WIPO in 2018-19 is one of the effective steps to implement the Directive 25 of the Party Secretariat on promoting multilateral external affairs through 2030.
Việt Nam's s coordinating role and proactiveness as Chair of the WIPO have been internationally hailed.
As the first and most important partner of Việt Nam in international cooperation on intellectual property, how has WIPO assisted Việt Nam, particularly in building mechanisms, technical infrastructure and training intellectual property staff?
WIPO is Việt Nam's first and most important partner in international cooperation on intellectual property. Annually, the organisation conducts many technical co-operation activities for developing countries and Việt Nam is one of the biggest recipients of projects focusing on policy building and law making in intellectual property, capacity improvement, modernisation of intellectual property management systems, and human resource development.
Particularly, WIPO has supported Việt Nam to improve its Global Innovation Index. The country jumped three places on the 2019 Index to 42nd out of 129 economies.
The building of the national strategy on intellectual property through 2030 with the technical assistance of WIPO has marked a new development in the field, affirming intellectual property is an important tool to promote innovation activities as well as national socio-economic and cultural development.
(Source: VNS)