EVFTA brings many benefits for protecting intellectual property rights in VN (28 August 2019)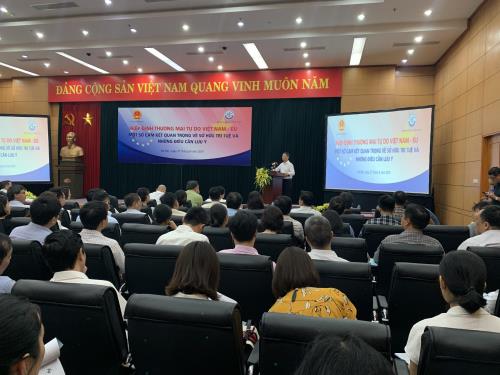 The EU-Việt Nam free trade agreement (EVFTA) is expected to bring many benefits in protection of intellectual property rights in Việt Nam.

Minister of Industry and Trade Trần Tuấn Anh delivered the message at a conference on important commitments on intellectual property held in Hà Nội on August 27.

The implementation will help Vietnamese enterprises protect the results of investment to creative activities from innovation of new technologies, designs and packaging to brands of products and services, he said.

"In addition, EVFTA also provides many opportunities to access EU markets," Tuấn Anh told Vietnam News Agency.

"To enter this large market, local businesses need to meet the regulations on protection, exploitation and realisation of intellectual property rights and know clearly about technical barriers in trade of this market."

Businesses must focus on raising awareness about intellectual property as well as improve technology and the ability to absorb advanced technology to improve quality, he said.

The EVFTA is a comprehensive and high quality agreement covering many issues, including intellectual property. This is a new issue appearing in a few FTAs that Việt Nam has joined according to the Ministry of Industry and Trade.

In the current trend of deep integration, a strong intellectual property system is the basis for a country to control activities of business and brand protection.

This helps attract investment from multinational companies and increase access to advanced technologies. It will also create an environment and legal corridor for individuals and organisations to develop innovative ideas and bring to market products with high quality and applicability.

However, the commitments on intellectual property under the EVFTA will create significant challenges for domestic law revision.

In addition, general awareness about infringement of intellectual property rights is still low while Việt Nam integrates further into the world, so it is necessary to increase the awareness of the public and enterprises about EVFTA's commitments in this issue.

Trần Hữu Linh, director general of the General Department for Market Surveillance said to improve efficiency in protecting intellectual property rights, Việt Nam needed to develop a national strategy. It should also improve professional qualification of intellectual property and performance of public duties at the State functional authorities.

In addition, it should increase efficiency of disseminating legal knowledge as well as learn experience and get supports from international organizations in the enforcement of intellectual property rights.

At the conference, Nguyễn Thị Thu Trang, Director of the WTO Integration Centre under the Việt Nam Chamber of Commerce and Industry (VCCI), said Technological Protection Measures (TPMs) not only applied for production, import, distribution, assembly, sale and rental, but also for storage with commercial and advertisement purposes.
Meanwhile, rights management information (RMI) not only protects original information, but also the information in copies and the public release.

EVFTA's commitments are higher than WTO in terms of increasing the rights of the court in deciding temporary measures for not only violating entities, but also those who are storing violated goods.

Trang said these commitments not only helped them increase economic benefits, increase creative motivation but also contribute to cost savings and be confident to register intellectual property rights protection.
(Source: VNS)