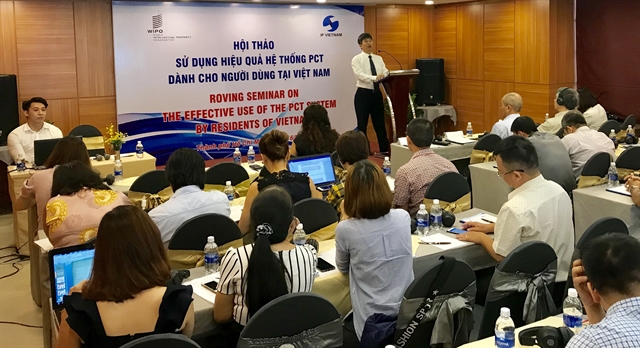 Vietnamese firms should take advantage of the international Patent Cooperation Treaty (PCT) system to increase the value of their brand names and protect their intellectual property rights, experts have urged.
Speaking at a seminar held yesterday in HCM City, Phan Ngân Sơn, deputy director of the Intellectual Property (IP) Office of Việt Nam, said that only about 10 Vietnamese have filed applications abroad through Việt Nam's PCT system each year since 1993 when Việt Nam joined the PCT system.
Even though the Việt Nam Academy of Science and Technology has more than 3,500 officers, including 237 professors and associate professors and more than 953 people with doctoral degrees, the academy has not had submitted international patent applications except for those filed as co-authors with foreign colleagues.
Nguyễn Hồng Quang, of the Institute of Physics under the Việt Nam Academy of Science and Technology, said that inventors had doubts about being accepted abroad and were not aware of the long-term benefits of applying for a patent abroad or the funding available to pay for the applications.
He recommended that the State issue a policy to support intellectual property protection and technology commercialisation, especially a financial policy to support businesses.
Anjali Aeri, counselor at the PCT Legal and International Affairs Department under the World Intellectual Property Organisation (WIPO), explained that a patent was an exclusive right granted for an invention and provided owners with the right to decide how or whether the invention can be used by others.
"In exchange for this right, the patent owner makes technical information about the invention publicly available in the published patent document," he said.
A patent provides protection for 20 years from the filing date of the patent application, and offers public disclosure of the invention in exchange for patent protection.
Application for a patent is made with a national or regional patent authority, or alternatively, through the PCT system.
"By filling only one application under the PCT with the national office of Việt Nam, or with the international bureau of WIPO, the Vietnamese applicant obtains the effect of a regularly filed national or regional patent application for all 152 PCT contracting states," she said.
A Vietnamese applicant would be entitled to a 90 per cent reduction of certain PCT fees for international applications filed under the PCT, according to Aeri.
In addition, use of the patent and PCT system can be seen as an engine for technology transfer.
Case study
A case study of successful patent use involves the Văn Điển Fuse Magnesium Phosphate Fertiliser Company based in Hà Nội, which has a capacity of more than 300,000 tonnes of fertiliser per year, and has distributed its patented technology domestically and internationally.
The company won a WIPO Award for its innovative use of patenting its developed technologies in 2002.
The company has invested in technological solutions for new waste processing systems to process coal needed for inorganic fertiliser made of salt from phosphoric acid.
It has been granted six patents for its inventions by IP Việt Nam and for its technology to use anthracite coal to manufacture phosphate fertiliser and its inorganic ore adhesive.
Intellectual property refers to creations of the mind, such as inventions; literary and artistic works; designs; and symbols, names and images used in commerce, according to WIPO.
IP is protected in law by, for example, patents, copyright and trademarks, which enable people to earn recognition or to financially benefit from what they invent or create, WIPO said.
A self-funding agency of the UN with 192 member states, WIPO is the global forum for intellectual property services, policy, information and cooperation.
Established in 1967, WIPO's mission is to lead the development of a balanced and effective international intellectual property system that enables innovation and creativity for the benefit of all.
The seminar was organised by WIPO in collaboration with the Việt Nam Intellectual Property Office of Việt Nam.
(Source: VNS)